Hi, thank you for visiting Ramsahai Wellbeing!
My name is Lila and this is my story.
I was born in Suriname in South America and immigrated to the Netherlands with my family when I was a teenager, making me very familiar with a multicultural and multilingual way of life. We always made the effort to maintain our Indian heritage as well as adopting the new culture we had been exposed to, easily blending the Dutch values into our everyday lives. A mix of Eastern and Western philosophies, values and beliefs was a very enriching experience that led me to my interests today.
It was further these Eastern and Western philosophies, values and beliefs that were both very enriching but also challenging experiences that led me to my interests and studies in exploring the human psyche and behaviour within a cross cultural context. It resulted into a BSc in Psychotherapy and a Master's in Intercultural Communication & Relationships. These I obtained at the University of Surrey where I began to pursue my interest in personal development and human potential as a mature student. Recently my interest in Wellbeing Life Coaching resulted into an accredited training too.
Before I became a Wellbeing Life Coach/Psychotherapist I worked internationally in roles such as Accounts Manageress, Multilingual Sales Executive, Customer Care management and Operations Manager. I experienced these roles in a bunch of different European countries such as Holland, United Kingdom, Spain, Gran Canarias and Lanzarote. These positions enabled me to experience even more diversity in people, culture and relationships, added more fuel to the fire that is my interest in Relationships, Career, Human Psyche and Growth.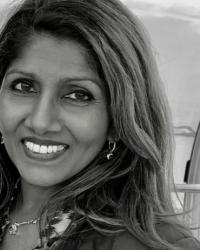 Lila Ramsahai
The last two decades of my life has resulted in the life path of Wellbeing, encompassing the body, mind and spirit. In this time, I realised my passion was to help people grow personally and professionally that resulted into my Wellbeing Life Coaching programme and Therapy practice. In my journey, I finally was able to connect with my purpose in life and it is now time to use my experience and knowledge to better somebody else.
I strongly believe we are here to be the person we truly want to be and live a life that is filled with harmony, abundance and meaning, regardless of what we experience. Life coaching and my therapeutic practice can help you achieve these.